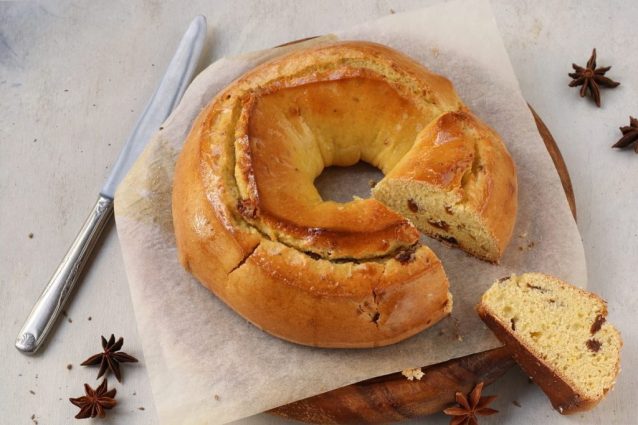 ingredients
Flour type 0

500 grams (almost 4 cups)

Milk

230 grams (1 cup)

? 49 kcal

Granulated sugar

150 grams (? cup)

Lard

50 grams (? cup)

? 982 kcal

Raisins

50 grams

Fresh brewer's yeast

10 grams

anise seeds

2 teaspoons

Egg

1

? 130 kcal

Salt

1 pinch

? 1 kcal

To polish

Granulated sugar

2 tablespoons

Water

2 tablespoons
Calories refers to 100 gr of product
This sweet bread is a typical tuscan bakery product with very ancient origins, with a characteristic circular and ring shape that has recently given way to oval versions that are more comfortable to pack and transport. This is a humble dessert, made with poor and simple ingredients; it has a shiny and golden crust that contains a compact and soft interior rich in raisins and anise seeds. Fragrant and greedy, this Tuscan sweet bread is perfect to be soaked in a cup of tea or coffee with milk in the morning for breakfast, or to be served at the end of a meal with a glass of wine or a shot of aniseed liqueur. So let's find out how to prepare the Tuscan sweet bread with our recipe explained step by step.
How to prepare the tuscan sweet bread
Collect the flour, egg, granulated sugar and salt in the mixer bowl. Dissolve the brewer's yeast in the milk at room temperature, then pour it over the other ingredients (1) and start kneading with the hook adding the flaked lard.
As soon as the mixture appears elastic, add the raisins, previously soaked in warm water and well squeezed, and the anise seeds (2). Work again until the dough will be firm and homogeneous.
Form a ball, transfer it to a bowl (3) and let it rise, covered with cling film, for about 1 hour and a half.
After the resting time will be elapsed, remove the cling film, transfer the dough onto a floured surface and roll it out to form a cord (4).
Arrange the cord of dough on a dripping pan, lined with parchment paper, forming a ring. Place a small glass in the center in order to keep the hole (5), then cover and let it rise for 1 hour.
Gently remove the glass and then, with a wheel with a sharp blade, engrave the sweet bread in the center (6).
Bake the sweet bread in a static oven at 190 degrees C for about 40 minutes, or in any case until golden brown. Once cooked, take the sweet bread out of the oven and brush it immediately with a mixture of water and sugar (7).
Then let the sweet bread cool completely and serve it in slices (8).
How to store the tuscan sweet bread
The tuscan sweet bread can be preserved soft and fragrant under a glass bell jar or in a special container for at least 3-4 days.