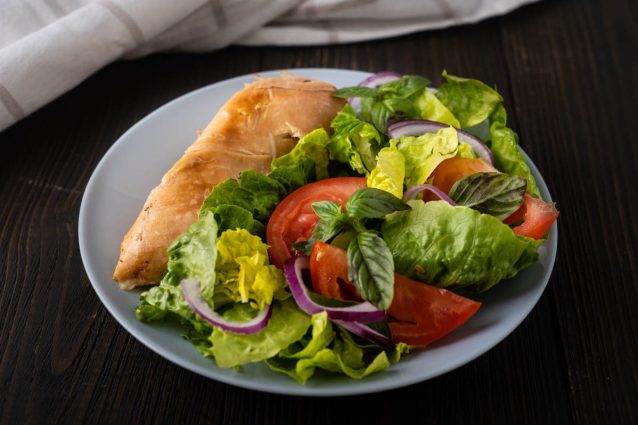 ingredients
whole chicken

1 (about 4 lbs.), neck and giblets removed

Honey

2 tablespoons

Olive oil

2 tablespoons

Chili powder

1 teaspoon

Paprika

3 teaspoons smoked

Garlic cloves

2 , minced

Parsley

2 tablespoons fresh minced

Thyme

1 tablespoon fresh minced

Black pepper

1 teaspoon ground

Salt

2 teaspoons , to taste

? 1 kcal
Calories refers to 100 gr of product
Slow cooker honey garlic chicken is a healthy and easier take on your favorite long-cooked, tender, and moist chicken recipe. In this recipe, you'll simmer a whole chicken in a sweet and savory sauce made with honey and warming spices. Honey adds just the right amount of sweetness to the chicken, which stays moist and caramelizes a bit on the outside as it cooks.
Ingredients for Slow Cooker Honey Garlic Rotisserie Chicken:
This short and sweet list of ingredients for this easy weeknight recipe is:
One whole chicken, about 4 pounds total. Be sure to check the cavity for a neck an any giblets and remove them before starting to cook the bird.
Chili powder, which adds a nice amount of spice without being overwhelming
Smoked paprika, anothe warming and not-too-spicy flaovr enhancer
Garlic for savory deliciousness
Parlsey and thyme, two important fresh herbs for the homey, Thanksgiving flavors in this recipe
That's it! You don't need any broth, stock, wine or liquid. And the chicken will still be just as plump and juicy as you want, thanks to the slow cooker trapping in all the moisture.
How to Make Slow Cooker honey Rotiessrie Chicken
As with any great crockpot recipe, this is an easy and straightforward cooking method with very little hands-on prep time. All yo need to do is prepare tker by hplacing four ballso f alumimumm foil on e bottom of the pot. This acts as a trivet, or a rack to hold the chiekn so the meat is exosed on all sides to the moist heat in the slow cooker.
Next, prepare the seasoning for the chicken by combinging all of the herbs, spices, salt and pepper.
Coat the bird in the seasoning mixture and let it cook in the slow cooker on low for 7 to 7 and a half hour or on high for four to four and ahalf hours. The chicken is done when the meat registers and internal temperature of? 165°F on an instant-read thermomemter.
The chicken at theis point will be falling-apart tender, so be careful when removing it from the pot. Have a serving platter nearby for minimal handling. Now your bird is ready to be carved and served warm.
Can I Make Crispy Skin?
Yes. Although the slow cooker won't crisp the skin on your rotisserie chicken, you can achieve that delicous golden outer layer in the oven. Simply turn on your boirler and place the cooked whole chicken on a baking sheet. Broil for thee to four minutes, until the skin is golden brown and crispy.
METHOD
Spray the inside of your slow cooker pot with non-stick cooking spray. Roll aluminum foil into four 2-inch balls and place them on the bottom of greased slow cooker.
Pat the chicken dry with apper towels.
Place the honey and oil in a small bowl and microwave (coverd with wax paper) for 30 seconds, unti lthe honey is warm and pourable. Whisk in the chili powder, smoked paprika, garlic, parsley, theme, pepper and salt. Drizzle this seasoning mixture over the chicken and rub to coat the bird fully in the sauce.
Place the chicken on top of the aluminum foil balls. Cover with the lid and cook on low for 7 to 7 ? hours, or on high for 4 to 4 ? hours until the chicken is cooked through and reaches an internal temperature of 165 F on an instant-read thermometer.
Carefully remove the chicken from the slow cooker to a serving platter.
Carve and serve the chicken warm.
To crisp the skin, place the chicken on a baking sheet and broil on high for 3-5 minutes. Watch the bird carefully as broilers can burn easily.