ingredients
Sandwich bread

1 loaf white , pre sliced

turkey ham

? pound sliced or other deli meat

Cheese

? pound sliced , such as swiss or mozzarella

Eggs

4 , beaten

? 130 kcal

Bread crumbs

? cup

salt and pepper

Oil for frying
Calories refers to 100 gr of product
Bread rolls are lightly fried, perfectly crisp and golden-brown rolls of sandwich bread stuffed with your favorite deli meat and cheese. Serve them on their own, or with homemade soup, stew or with a simple dipping sauce. It's a good thing they're so easy and fast to make, because they disappear in seconds!
There are many different kinds of bread rolls, from classic dinner rolls to doughy sourdough buns to flaky biscuits. However, this recipe is for classic fried bread rolls that can be served as a meal all on their own, thanks to a secret meaty filling.
For this recipe, you'll start with sandwich bread, then fill it with hearty turkey and your favorite cheese to make a satisfying roll-up. Then, coat the bread roll with eggs and crunchy breadcrumbs for a crust that cooks up crisp and golden brown in hot oil.
How To Make Bread Rolls
Roll a piece of sandwich bread into a thin rectangle. Flip and roll both ways. Slice the bread in half.
Place a slice of turkey ham on each piece of bread.
Place a slice of cheese on top.
Roll the bread up. Wrap each roll tightly in plastic wrap. Twist both ends to secure. Place in the refrigerator for 30 minutes to firm up.
Fill one wide, shallow dish with breadcrumbs and a second dish with whisked eggs. Dip each bread roll into the eggs, using a fork to coat all sides. Next, roll each bread roll in the breadcrumbs. Roll to coat fully.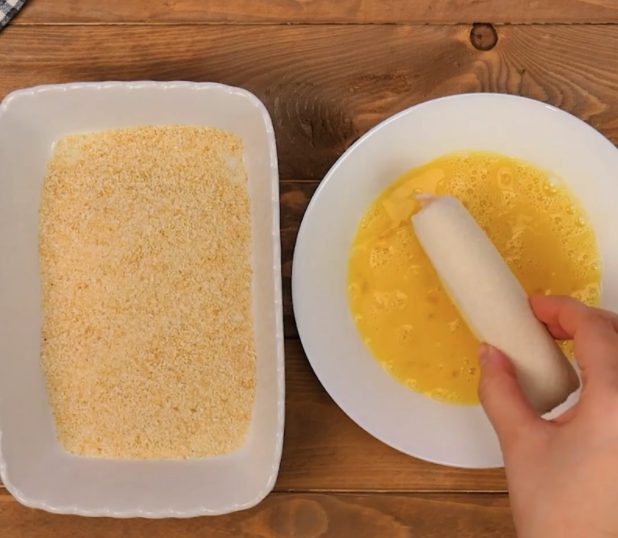 Fry the bread rolls in ? inch of hot oil in a large skillet over medium heat. Turn to brown all sides. Add only as many rolls as fit comfortably in the frying pan. Overcrowding will prevent the rolls from crisping.
Remove the rolls from the oil, let cool slightly, and serve.
Can I Freeze Bread Rolls?
Yes, this is an excellent make-ahead meal that you can freeze. For best results, let the bread rolls cool completely before freezing. Then, place the rolls on a baking sheet in the freezer for about an hour. They should be mostly frozen.
Transfer the frozen bread rolls into an airtight container or zip-top freezer bag. Seal and freeze for up to 3 months. To defrost, preheat the oven to 350°F, place the frozen bread rolls on a baking sheet and toast in the oven until they are warmed through.
If you want a really crispy bread roll from frozen, you can also re-fry the rolls just as you did the first time, in about ? inch of hot oil on the stove.
How to roll out bread dough evenly
It's important to roll the bread out evenly for this recipe. Start with a pre-cut piece of bread from a loaf of white sandwich bread. This is the airiest type of bread that's the easiest to roll.
Place the bread on a flat work surface. Use a rolling pin to carefully roll the bread flat. Apply even pressure along the length of the rolling pin. Too much pressure can tear the bread, while too little pressure won't flatten the dough enough.
Turn the bread so that you roll out both sides, again applying even pressure.
Ingredients for Fried Bread Rolls
The ingredients in this simple recipe are all pantry staples that you're likely to already have on hand. Here's what you need to make quick and easy bread rolls at home:
Sandwich bread. Look for one that's white, light and fluffy. This makes it easier to roll out. Pre-sliced bread is evenly cut, which also makes it easy to roll flat.
Turkey ham. You can use any of your favorite sliced deli meats to fill the bread rolls. Add one slice per piece of bread.
Cheese. Choose pre-sliced cheese that melts well, like munster, cheddar, swiss or mozzarella. You want thin slices that are easy to roll closed.
Eggs. Beaten eggs are the coating that helps bread crumbs stick to the outside of the bread rolls so your rolls crisp up beautifully as they fry.
Frying oil. Choose a neutral oil for frying, such as canola or vegetable oil.
Directions
Roll the slices of sandwich bread as thin as possible.
Place a piece of turkey ham and cheese on each piece of bread and roll tightly.
Wrap each roll tightly in plastic wrap, twisting the ends to seal.
Place the wrapped bread rolls in the refrigerator to firm up for 30 minutes.
Meanwhile, heat 1 inch of oil in a frying pan over medium heat.
When the oil is hot, add as many bread rolls as fit comfortably in the pan and cook, turning regularly to brown all sides.
Transfer the bread rolls to a paper towel-plate and let cool slightly before serving.